If you lived in Old Bridge, (Middlesex County) New Jersey, during the winter of 1996-1997, you may have seen a good-sized domestic rabbit wandering around the neighborhood. This rabbit's coat was mainly white with some very interesting color highlights. If you were like a number of residents in that area at the time, you may have left food out for this bunny, or made a vain attempt at catching him. Time and time again despite everything you tried, you were outsmarted by this fast little critter.
Then one very warm spring day, you discover the rabbit that had outwitted you all winter lying on his side in a neighbor's driveway.
He is limp and nearly lifeless.
You bring this to the attention of the homeowner whose driveway the poor pitiful creature is lying in. That person quickly picks up the near dead rabbit, and you both take the ailing bunny to the Old Bridge Animal Shelter.
Upon your arrival, shelter workers contact Shelley Stack of the New Jersey House Rabbit Society. She arrives thirty minutes after you and the bedraggled bunny walk through the door of the shelter.
You then leave the ailing creature in the hands of the experts, in the hope that they know what to do to save his life.
Shelley was shocked by his emaciated appearance. The poor creature was so weak that he couldn't stand on his own. Shelley took the rabbit immediately to Oakhurst Veterinary Hospital to see Dr. Michael Doolen, for treatment and evaluation.
Dr. Doolen hydrated the rabbit, disposed of numerous ticks, treated the bunny for a case of fleas, and kept the rabbit at the hospital for two weeks until the rabbit's condition improved.
The day Shelley delivered the sick rabbit to Oakhurst Veterinary Hospital, the office staff asked Shelley for the rabbit's name. Not knowing the rabbit or his personality, Shelley just went with instinct, and the name Toby was drawn from somewhere in her mind. She never knew anyone by that name, and to this day, she cannot say where that name came from.
Perhaps it was just meant to be.
Toby had an iron will and once he was feeling better, exhibited a very strong personality. With Toby, it was his way or the highway! Toby would stay under Shelley's watchful eye for several weeks.
Shelley had just met Carol Manos, a new NJHRS member at the time, and wondered if Carol could take over the fostering duties for Toby. Carol agreed and Toby became Carol's first foster bunny for the NJHRS.
Toby was the king of all he surveyed, and ruled the roost with an "iron paw". During his time with Carol, he did meet with a number of prospective adopters, but Toby was a discriminating little rabbit and no one potential family had met his exact specifications for a new home. Shelley recalls that Toby was quite rude in fact, and decided he wanted to stay with Carol.
This would give Toby the distinction of being the the "elder statesman" of the NJHRS. He had the honor of being the rabbit who stayed under the care of an NJHRS foster family for the longest period of time.
So Toby did indeed stay with Carol until her untimely passing in May of 2003.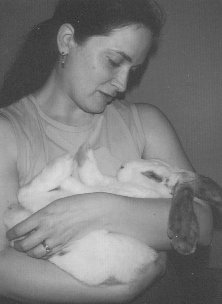 It was after that sad event that Toby finally did encounter someone who fit his high standards: NJHRS member Kimberly Lucci. Cathy Genna was familiar with Toby and had told Kimberly about his personality and behavior. Toby would never show that side of himself to Kimberly. She was really surprised since the rabbit Cathy had described was nowhere to be found. A new Toby was emerging, one who was so completely different from Cathy's description.
Kimberly bonded almost instantly with Toby and vice versa, and they both quickly found a very special place in each other's heart. Toby finally had the permanent home he so much deserved, and his new mom constantly showered him with attention and affection. His new dad also grew very fond of him.
We will never know the reason for Toby's transformation. Perhaps it was because of a condition he suffered which resulted in the amputation of a hind leg. Maybe he was just mellowing with age? Or perhaps it was simply the opportunity of a new life and a new permanent home.
Whatever the reason was, he never once acted grumpy or ornery with Kimberly.
Toby came alive in his new environment and his personality really blossomed. He would get very excited at feeding time, and munched heartily on romaine lettuce and all his other greens. He especially loved his crunchy nibble treats and looked forward to his daily papaya vitamins!
Toby was the perfect gentleman and was always very well mannered. Never once did he make a fuss when it was time for a nail trim. He even allowed Kimberly to pick him up to take him out of his cage for his daily play- time around her bunny room.
Kimberly would say later: "Words cannot adequately express how I felt when watching Toby during his free play time outside of his (Marchioro Luna) cage. His sheer joy and utter contentment were almost palpable as he explored around the bunny room - despite his disability, he was able to hop through cardboard tunnels."
To Kimberly's great surprise, she saw Toby hop up onto the top of a cardboard box one day. This was quite a remarkable achievement for a bunny with only one hind leg! Kimberly was just amazed by Toby's ability to overcome his physical limitations.
Toby indeed had the heart of a lion!
However the joy that both Kimberly and Toby felt was short lived. Just weeks after entering this new loving environment, Toby, the rabbit who was blessed with a constitution of iron, would enter into a gentle slumber never to awaken again.
Toby's life can be a lesson to all of us. His is a story of overcoming great odds that seem overwhelming and the ability to turn a new leaf at any age. Finally, Toby's story shows that in the end you can get whatever you want if you have the courage to persevere.